Hotel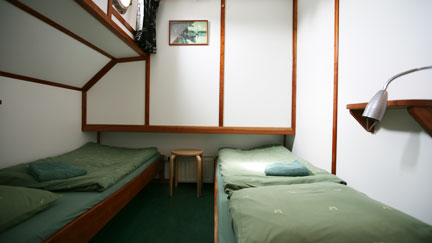 Cabin. Click for bigger and more pictures.
Eight cabins with private hot shower and toilet
- 2x Family-style room, 2/3 p with double bed plus single bed.
- 2x Friends-style room, 2/3 p with 3 single beds (one bunk).
- 2x Twins-style room, 2 p with two separate beds.
- 1x Lovers Nest, 2 p with small double bed
- 1x Captains Lodge (1-4 persons + child)

Check for prices and availability
Ratings
"It was a nice stay in Amsterdam. To sleep at hotelboat Zwaan is a unususal but good and cheap opportunity. The breakfast especially the pannekoeken were delicious. Highly recommended."
- Konstantin - Germany - Mar 17, 2010
"Great breakfast. Nice people. Good location. Clean. Even though the rooms are not too big, we would definetly come again..."
- Asli - Turkey - Nov 23, 2009
Lovers Nest
A cosy warm decorated cabin. Small double bed, hot shower and toilet. Wide view through 4 portholes. The Lovers Nest is a separate cabin in the front of the ship (steep stairs!) with own entrance.
Captains Lodge (available only off-season)
50m² for 1 to 4 persons plus child.
Original designed living room with well equipped kitchen, two bedrooms, childrens bed, bathroom with hot shower, laundry set. Wheelhouse with great view included. TV set/dvd.
From € 100,- per day, minimum 7 nights.
Reserve dinner for your company. Large variety of nice meals at tasty ratings.
Hotelboat Zwaan is equipped with a well decorated veranda. The covered roof terrace never leaves you cold or wet and protects against sun and snow.
- Free internet in Public Library. At 2 min. walk.
- Smoking inside: stricktly forbidden. Covered smoking-area on deck.
- No curfew, Room/entrance key deposit of € 20,-.
- Sheets and towels included!
- No Credit Cards accepted! Cash pay at arrival.